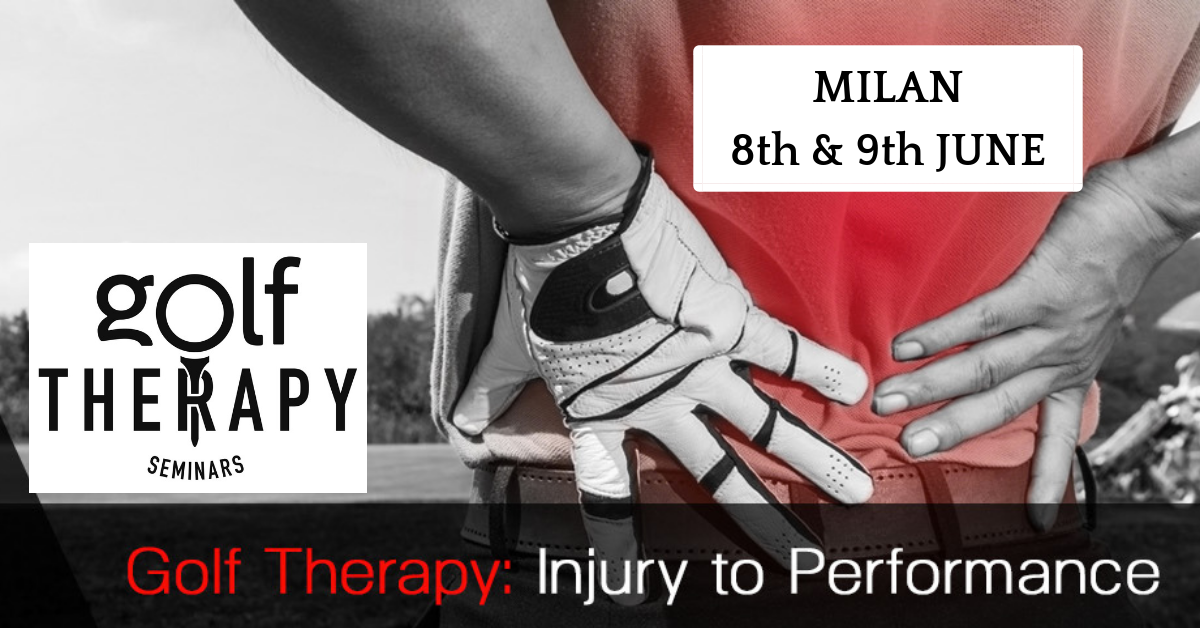 Busto Chiropractica, Viale Duca D'Aosta 16, 21052 Busto Arsizio, Italy
This course is designed both for therapists who currently manage, as well as those looking to start treating, amateur and professional golfers. Benefit from a patented system developed from a decade of experience treating European and PGA Tour golfers.


Course Objectives & Agenda:
Over this two-day (16 hrs CPD) seminar, our goals are to enhance your clinical skills and apply this newfound knowledge to your golf clients immediately.
1. Introduction to the Golf Swing

Breaking down the golf swing and using it to help with your overall assessment
2. Golf Specific Screening & Functional Assessment
How do we use the TPI, FMS, SFMA and DNS Screens to assess golfers in detail.

3. Manual Therapies Approaches for Golf Injuries

This includes myofascial techniques, instrument assisted soft tissue therapy, mcKenzie, manipulation & mobilisation. How these techniques are modified for junior and senior golfers.
4. Evidence Based Rehabilitation Approaches

How to properly rehabilitate tennis elbow, disc herniations, TFCC tears, meniscal injuries and other common golf injuries
5. Improving Performance & Longevity

How the tour pros looks after their recovery, what strategies they use and how they can be applied to the amaetuer golfe
6. Building a Golf Specific Clinic
Having both extensive experience on tour and in private practice we will show you how to build a successful golf specific clinic
Who's The Course For?
Chiropractors, Physiotherapists, Osteopaths, Massage & Sports Therapists
Pricing:

€550
-----------------------------------------------------------------------------------------------------
Questo corso si rivolge non solo ai terapisti che già seguono e trattano giocatori di golf dilettanti e professionisti, ma anche a quanti hanno intenzione di iniziare a trattarli.
Traete vantaggio da un sistema brevettato, sviluppato in dieci anni di esperienza diretta nel trattare giocatori Europei e del PGA Tour.
Obiettivi del corso:
Durante questi due giorni (16 ore CPD) di corso, il nostro obiettivo è quello di migliorare le vostre capacità cliniche e di permettervi di applicare da subito queste nuove conoscenze sui vostri pazienti golfisti.
Programma:
Workshop pratici incentrati su collo & spalla, polso & gomito, schiena & anche, piede & caviglia.
Screening e valutazioni specifiche per il golf, compresi alcuni comuni schemi motori disfunzionali
Terapia manuale specifica per i golfisti compreso "dry needling", manipolazione/mobilizzazione e IASTM (instrument assisted soft tissue mobilization)
Particolare attenzione sarà rivolta ad aumentare la vostra percentuale di risultati positivi nel trattamento di epicondiliti, ernie discali, dolore al polso e altri infortuni frequenti in chi gioca a golf
Riabilitazione mirata a far tornare il vostro paziente a giocare, con una particolare attenzione alle strategie di movimento ed esercizi correttivi
Respirazione e stabilità per la performance nel golf, imparando a sfruttare il potere della Pressione Intra-Addominale (IAP)
A chi si rivolge questo Corso?
Chiropratici, Fisioterapisti, Osteopati, Massaggiatori e Terapisti Sportivi
Traduzione consecutiva (a richiesta)